What can I expect from an arm lift procedure?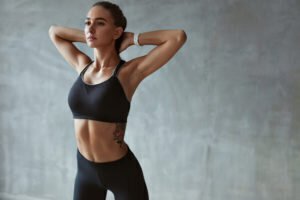 When men and women are dealing with significant, noticeable upper arm skin laxity, they may feel self-conscious when wearing clothing that does not cover their arms. This extra skin can hang and cause patients to avoid social situations where tank tops or bathing suits are the norm. However, thanks to advances in cosmetic plastic surgery, patients can now target this extra skin with surgical intervention and boost their self-confidence dramatically.
What is an arm lift?
The arm lift procedure, medically known as a "brachioplasty," is a surgical intervention that is used to remove excess skin from the upper arm and provide better shape, proportion, and contours to improve appearance. The arm lift procedure is highly desirable for patients who have experienced significant weight loss or weight changes that have resulted in stretched skin. Skin elasticity also changes naturally over time, and can result in the development of sagging skin in the upper arm area.
Am I a candidate for an arm lift procedure?
The best candidates for this treatment include those who:
Have significant upper arm skin laxity
Have stabilized their weight and are not overweight
Are healthy and are free from medical conditions that can increase risks with surgery
Are adult non-smokers
Have realistic expectations as to what can be achieved with arm lift surgery
During a consultation appointment, we encourage patients to be open and honest with Dr. Matthew J. Trovato to discuss their expectations from surgery. Patients will have a medical evaluation performed and will talk to the doctor about their medical history and any current conditions that may impact their procedure. Patients should also discuss the use of any current medications, including supplements, vitamins, drugs, and alcohol.
What happens during an arm lift procedure?
The brachioplasty starts with anesthesia which ensures comfort during the procedure. Then, incisions are made as previously discussed with patients to provide the best results. Excess skin is removed, and then the area is sutured with absorbable stitches. The entire procedure takes approximately one hour, and patients can return home the same day as their surgery.
Request a consultation with Dr. Matthew J. Trovato
Dallas, TX patients considering an arm lift or other cosmetic plastic surgery are invited to call (214) 827-2873 to schedule an appointment.