Who is a good candidate for an arm lift procedure?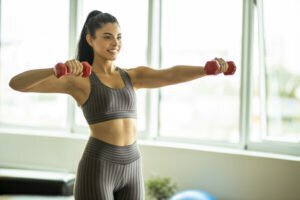 Many men and women struggle with the signs of aging, but it's not just the face that starts to exhibit the early symptoms. Both men and women will find that excess, sagging skin on the upper arms is also problematic for them. This excess skin—and fat—can continue to droop, which can significantly affect the way they look when wearing more revealing clothing such as a bathing suit or sleeveless top. With the help of a plastic surgeon such as Dr. Matthew J. Trovato, patients in the Dallas, TX area can restore their confidence with the removal of skin and fat and tightening of the upper arm area using the arm lift procedure.
What is an arm lift and how does it work?
The arm lift is a targeted procedure for the upper arms that removes both fat and sagging skin. In doing so, patients will find that they can tighten and tone the upper arms and enjoy better body contours on the upper portion of the body. With the help of a plastic surgeon, patients will enjoy the many benefits of the arm lift. It can:
Sculpt and smooth the arms for a more toned appearance
Help in removing excess skin left behind after substantial weight loss
Tighten aging, sagging skin in the arm area
Allow patients to feel confidence when wearing swimwear and tank tops
Improve overall self-confidence and body acceptance
Refine a patient's weight loss efforts, allowing them to show off their changes with confidence
Who is a candidate for the arm lift procedure?
During a consultation appointment and initial evaluation with Dr. Matthew J. Trovato, Dallas, TX area patients can find out if they are a good fit for this plastic surgery procedure. Patients who are best suited for the arm lift procedure are adult men and women who are within their ideal weight range, are healthy, and are unable to improve the area with changes in diet and exercise.
Are you interested in learning more about the arm lift procedure?
Dr. Matthew J. Trovato and his team in Dallas, TX are pleased to provide solutions for patients based on their unique needs. If you are considering the benefits of the arm lift procedure and want to consult with a professional, now is the time to make an appointment. Call (214) 827-2873 today to request your consultation visit.