3 Things to Know About Breast Implants and Stretch Marks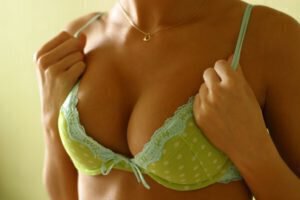 Stretch marks are a nasty part of a woman's life. Primarily caused by pregnancy, stretch marks can leave almost claw like marks across areas of your body where your skin was unusually stretched. However, many patients also get stretch marks following cosmetic surgery treatments such as a breast augmentation. By placing an implant under your skin, it has to naturally stretch to cover the implant which can sometimes cause patients to suffer from stretch marks. If you are worried about getting stretch marks after your breast augmentation surgery, read on to learn more.
Know Your Body
One of the biggest things to know about stretch marks is the fact that they are predominantly hereditary— meaning that if your mother or grandmother has them, then you are likely going to get them as well. Additionally, if you got stretch marks during your pregnancy, then you are more likely to get them after your breast augmentation than if you didn't get them while pregnant.
Try Cream
Luckily, if you do get stretch marks or if you are more susceptible to getting them, there are over-the-counter creams that you can use to help keep your skin moisturized. By applying the cream directly to your breasts both before and after your surgery, you can contribute to reducing the appearance of stretchmarks and make sure that your skin remains comfortable.
Stretch Marks Will Fade
If you do get stretchmarks following your breast augmentation try not to freak out— they will likely fade a few years after your surgery. And although a few years may seem like too much time, it sometimes takes a while for your body to heal and regenerate itself so try to be patient.
Getting breast implants from Dr. Matthew J.Trovato can help transform your body and your life. However, if you are scared that you are going to get stretchmarks on your breasts following surgery, you are not alone. Luckily, by understanding more about stretchmarks and that they will fade on their own, you can rest assured that everything will be alright. To learn more about breast augmentations or other surgical procedures, contact Dr. Matthew J. Trovato's office today!