Get the Booty You Want With Brazilian Butt Lift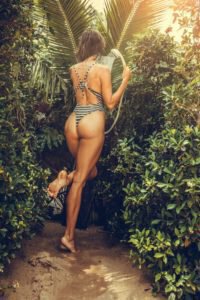 February is a cold month, but it's deliciously close to warmer weather. After all, April will be here before you know it, and soon we'll be shedding our layers and planning excursions to the beach. If you're not excited about how you look in a swimsuit, then now is the time to prepare. If you want to fill out a little more of your bikini bottom, or you have problems with losing your shorts, you may benefit from a little Brazilian Butt Lift.
This amazing treatment has taken the world by storm, since it works a little like a two-for-one. Wouldn't it be great to move those extra pounds hanging on our stomachs just over and around a little bit? Keep reading to learn about the Brazilian Butt Lift.
What is buttock augmentation?
Buttock Augmentation is the process of augmenting the appearance of the backside during a surgical procedure. Dr. Trovato is skilled in two methods of buttock augmentation and buttock lift procedures. You may find one treatment sounds more suitable for you, and Dr. Trovato can help you determine which treatment will work better for you, as well.
Brazilian Butt Lift Vs. Silicone Implants
If you have fat from other parts of your body that we can utilize, then a buttock augmentation can be performed using your own fat (usually taken from the stomach, hips, thighs, or love handles). We perform the Brazilian Butt Lift procedure, which we see as the preferable option of buttock augmentation since it does utilize your own tissue. It also gives amazing results.
Don't worry if you don't have the fat to fill out your booty. We can use silicone implants to help you get the backside you're more proud of. Bodybuilders and patients who naturally have a low fat percentage will benefit from silicone implants, since they don't have much fat to spare.
Who is a good candidate?
If diet and exercise aren't encouraging a better bum, buttock augmentation might be what you're looking for. If you're in good health and can undergo surgery, a buttock augmentation may be the right choice for you.
Are you ready for a more perky, youthful backside this summer? Please give us a call at (214) 827-2873 to schedule a consultation at our Dallas office or (973) 509-2000 and we can schedule a consultation for you in our New York office.