Cheek Implants vs. Dermal Fillers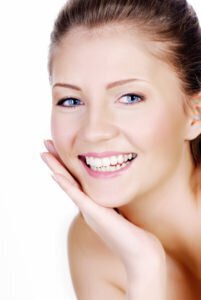 Your cheeks help with facial balance and overall appearance by influencing the way that light reflects on your face. The pattern of soft shadows and highlights gives your skin a radiant, attractive tone. If you have underdefined cheeks, wither due to your anatomy or the effects of aging, you lose this benefit, and your face may look drawn. Cheek augmentation is an aesthetic technique that adds volume and contours this area of the face. The procedure can be performed with cheek implants and dermal fillers, but which one is right for you?
Cheek Augmentation with Implants
Cheek augmentation with implants offers patients a long-term solution for adding fullness to the cheek area. The surgical procedure involves making an incision inside the mouth and positioning the implant in a pocket of soft tissue. Modern cheek implants look very natural, and patients have several options in size, style, and shape.
Using Dermal Fillers for Cheek Augmentation
Dermal fillers use various mechanisms to add volume to your skin that softens wrinkles and enhances your contours. For the cheek area, Dr. Trovato recommends:
Restylane®, a hyaluronic acid facial filler that binds to water to improve hydration and skin volume
Radiesse®, a facial filler that contains small microspheres that add fullness and stimulate collagen production
The results of cheek augmentation with Restylane® last about 12 months, at which point your body has absorbed the hyaluronic acid. Cheek enhancement with Radiesse® may last longer due to the increased production of collagen, but this varies by patient.
Choosing the Best Cheek Augmentation
Dr. Trovato works with you to find the cheek augmentation solution that best fits your desires. His recommendations are based on several factors, such as:
Cost
Longevity of the augmentation
Downtime limitations
Anatomy
Effects of aging
Personal cosmetic goals
Which Cheek Augmentation is Right For You? Contact Matthew J. Trovato.
Are you considering cheek augmentation and want to understand your options?  Learn more about cheek augmentation, rhinoplasty,  breast lift surgery and our other services. Contact board-certified plastic surgeon, Dr. Matthew J. Trovato, to schedule a personal consultation. You can call our Dallas office directly at (214) 827-2873 and our New York office at (973) 509-2000.