Recovering from a Chemical Peel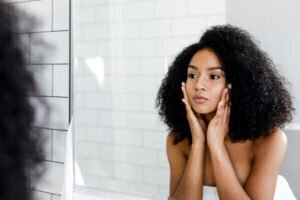 If you love skin care and the routine of taking care of your skin, you may have a collection of products at home that you use on a regular basis. Perhaps you get regular facials and enjoy the glow you have when you leave the office. But, if you've never gotten a chemical peel, they can seem a little daunting.
Chemical peels are a wonderful way to remove dead skin cells and reveal glowing, healthy skin. Especially in the winter, when our skin is dull, dry and in need of assistance, a chemical peel can be a welcome boost. Keep reading to learn how to take care of your skin after a chemical peel to have the best results.
Hydrate
Listening to your skin is important after a chemical peel. You may find that your skin is dry and thirsty just a few hours after you applied moisturizer. Keep an eye on your skin and give it what it asks for. An occlusive moisturizer may be a welcome addition to your skincare regime for the next few days, too. This will keep moisture in even better, and support quick healing.
Avoid Makeup
Though makeup isn't always a problem, going without foundation for a couple days can help your skin recover from a peel without complications. In fact, your skin may love a rest from ingredients and chemicals in makeup. If you can't go without makeup, then opt for a light mineral makeup and make sure to remove it gently (no scrubbing) before you go to bed.
Don't Pick
Though some professionals don't mind if you peel the skin off your face, we recommend leaving it alone. Some sensitive skin types may develop hyperpigmentation or scarring from removal of skin too early. If you are being bothered by large flakes of skin, then you can use small cuticle scissors to remove excess skin from your face.
Wear Sunscreen
Overall, your skin needs to be treated gently after a chemical peel. Protecting the fresh, new layer of skin is key, so wear sunscreen every day.
Call us today at (214) 827-2873 to schedule a consultation and learn about chemical peels today.