Embrace Your Inner Executive With the Executive Refresh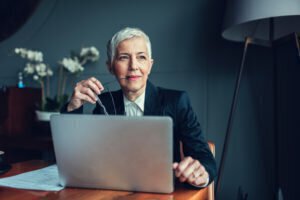 No matter what you do for a living, nothing can make you feel like the executive you've always wanted to be quite like the executive treatment. As one of the premier treatments that we offer our patients, the Executive Refresh is a combination of procedures designed to give you that ultimate refreshed look. Read on to learn more.
Volume Restoration
One of the things that you may notice when you start to age is a loss of volume across your face and body. As a part of the executive refresh procedure, however, Matthew J. Trovato likes to perform volume restoration treatments to help patients natural produce collagen in their skin.
Eyelid and Brows
The skin around your eyes starts to lose elasticity as you age— leaving you with the inability to see clearly and even do simple tasks like apply makeup. Luckily, with a  combination of eyelid and brow surgery, Dr. Matthew J. Trovato can surgically lift and remove the excess skin around the upper and lower eyelids, and brow area— leaving you with a more youthful appearance in the process.
Skin Rejuvenation
Skin rejuvenation treatments include a variety of treatments including chemical peels, microdermabrasion, fillers, and Botox. With a combination of these treatments, Dr. Matthew J. Trovato will work to increase skin cell turnover which creates a smoother, healthier complexion in the process.
Sometimes it's better to get a variety of treatments done at once to get the best results possible. With a combination of volume restoration, eyelid and brow lift, and skin rejuvenation procedures, Dr. Matthew J. Trovato can make you look and feel younger than before. If you would like to learn more about the Executive Refresh or to schedule an appointment, contact Dr. Matthew J. Trovato today.