Our Favorite Laser Treatments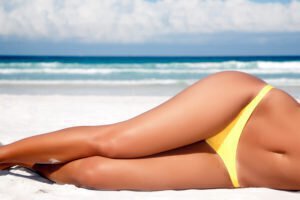 Non-surgical and minimally-invasive treatments have changed the world of plastic surgery and aesthetic treatments. Men and women are now able to look younger without extensive downtimes, potential complications and scarring that are a normal part of surgical procedures. Along with dermal fillers, laser treatments provide men and women with a range of products that target common signs of aging and aesthetic concerns. Here are a few of our favorite laser treatments.
Ultherapy®
Increasing collagen in the skin is an excellent way to tighten the skin and rejuvenate one's appearance. Ultherapy® uses ultrasound to heat the deep layers of skin and stimulate collagen production. The treatment is approved by the FDA for use on the face, neck and upper chest.
CoolSculpting®
Extra fat on your body creates uneven contours, bumps, and bulges. Sometimes diet and exercise are not enough to reduce the fat that causes these embarrassing problems. Liposuction does eliminate the excess fat and any loose skin, but the procedure may involve more tissue modifications than what is necessary. CoolSculpting® offers men and women who have good skin elasticity a way to reduce fat without surgery.
Fraxel Re: Store Dual
Sun damage, dark spots, and wrinkles are common amongst men and women who spend time outdoors. A facelift or brow lift may help with the wrinkles, but these surgeries cannot correct sun damage, age spots and other concerns that develop on the surface of the skin. Fraxel Re: Store Dual uses laser energy to develop new collagen in the skin.
Thermage® CPT
Radiofrequency energy is another technique that is used for stimulating collagen. Thermage® CPT is considered one of the best systems for addressing wrinkles and other concerns. One of the advantages of Thermage® CPT is that the treatments can be performed on the face and body.
IPL® Photo Facial
If you need comprehensive skin rejuvenation, IPL® Phot Facial may be your best option. The treatment helps with scars, enlarged pores, dark spots, redness, freckles, visible veins and other concerns. You may need several treatments to rejuvenate your skin to the desired level.
Learn More About Laser Treatments. Contact Dr. Matthew J. Trovato.
To learn more about laser treatments, Botox®,  male chin augmentation and our other services, contact Dr. Matthew J. Trovato to schedule a consultation at one of our locations. You can reach our office in Dallas at (214) 827-2873 and our office in New York at (973) 509-2000.