Undergoing male chin augmentation for a chiseled, define look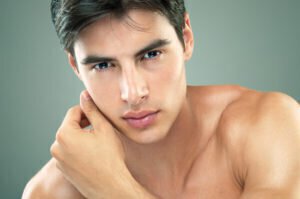 Men in the area of Dallas, TX who have a weak, ill-defined chin or jawline that does not stand out and frame the face may want to speak to a plastic surgeon about the advantages of the male chin augmentation procedure. Dr. Matthew J. Trovato uses the chin augmentation procedure to help patients achieve their desired goals for the face, and to give them a more prominent chin to complement their facial balance.
How is male chin augmentation achieved?
To achieve a stronger chin and jaw line, chin augmentation is performed. This surgical procedure, medically called mentoplasty, is used in contouring the jaw line with the use of chin implants. These implants are placed over the bone of the chin to give a more prominent chin and a more desirable profile appearance.
The procedure itself does not take long at all. In fact, most patients will have the chin augmentation procedure completed in less than an hour. It is performed under local anesthetics, during which the doctor will complete the surgery. Incisions are made either in the mouth or underneath the chin to insert the implant, creating a pocket to hold it firmly in place. The area is then sutured and the surgery is complete.
How do I choose an implant?
There are many different shapes and sizes of chin implants for patients to consider. All the implants used in our practice are made from silicone, which has been used for years in contouring the face and body. Patients can speak to Dr. Matthew J. Trovato and work with him to choose the chin implant appropriate for one's desires. He has the knowledge and expertise to select the proper shape and size implant to help patients look their best while ensuring the results are as natural-looking as possible. Patients can also ask to see before and after photos of past patients to get an idea of the end result.
Call Dr. Matthew J. Trovato today
Dallas, TX area patients considering the benefits of the chin augmentation procedure can contact his practice by calling (214) 827-2873 to request a consultation. During this time, our doctor evaluates a patient to decide if they are a good fit for this or other cosmetic procedures for the face or body.