MOHS Micrographic Surgery for Removing Skin Cancer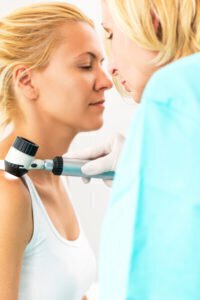 The diagnosis of skin cancer can be traumatic for many men and women. However, thanks to continued advances in skin care and cancer treatments, patients with skin cancer can often find an effective way to address the problem and eliminate the cancer entirely. Because skin cancer is one of the few visible forms of cancer, it can often be caught early enough for effective intervention. Most patients benefit from excision of the cancerous cells to completely remove them from their body. Traditional excision can leave scarring behind, so when patients are dealing with cancer on highly visible areas of the body or face, they are often encouraged to learn more about a specialized excision process known as Mohs micrographic surgery.
How does Mohs micrographic surgery work?
The idea behind Mohs micrographic surgery is to leave behind as much healthy skin as possible while fully removing the cancer—regardless of how deep the cancer cells lie. This not only achieves full removal of the cancer, but does so in a way that results in less scarring and disfiguration. Patients who have cancer on the face or other visible areas may benefit from Mohs micrographic surgery to reduce the appearance of the excision.
During Mohs micrographic surgery, Dr. Matthew J. Trovato will remove small layers of skin one at a time, and evaluate them under a microscope to look for cancerous skin cells. Layers are continually removed and reduced as cancer is removed. The area is then sutured and the patient is considered cancer-free.
Why else might a patient consider Mohs micrographic surgery?
Because of the precision this treatment requires, Mohs micrographic surgery is also recommended for patients who have recurring cancer in the same area. This treatment ensures that the cancerous skin cells are fully removed to avoid recurrence. This treatment can be performed anywhere on the body and face.
Are you considering Mohs micrographic surgery?
Skin cancer patients are urged to speak to Dr. Matthew J. Trovato about the options available to them for addressing persistent or highly visible skin cancer on the face or body. Call (973) 509-2000 to book a consultation at his New York area practice.