Learn About Pectoral Implants for Men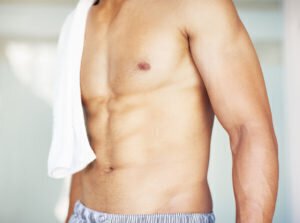 Dallas, TX area men who want a more defined chest area when diet and exercise fail are encouraged to speak to Dr. Matthew J. Trovato. Dr. Matthew J. Trovato is a plastic surgeon who offers a wide selection of services for men and women, including chest-defining procedures for men via pectoral implants.
What is a pectoral implant?
For men who feel their upper chest area lacks the desired muscular definition, pectoral implants can be used to achieve desired results. Pectoral implants are implants added to the upper chest to achieve a more masculine appearance. These implants are often considered by men who have been unable to achieve results with diet and exercise alone. Pectoral implants firm and add bulk to the area where the pectoral muscles are present.
Who is considered a good candidate for pectoral implants?
Pectoral implants may be considered by men who:
Are interested in a more athletic appearance
Do not have the well-developed pectoral muscles they desire
Have an asymmetrical chest caused by genetics or deformities
Have had previous surgeries that resulted in surgical defects
Want better body proportions and a more athletic build
What can I expect from pectoral implant surgery?
Men considering pectoral implants are often interested in what they can expect throughout the process. This surgery is an outpatient procedure that is performed by Dr. Matthew J. Trovato under general anesthetics. Incisions may be made under the breast, through the armpit, or around the nipple depending on the patient's desires. Implants are made of silicone and are chosen prior to treatment. The implants are placed underneath the pectoral muscle and the area is sutured with dissolvable stitches. Patients are then released after the anesthetics have worn off. Post-operative instructions are sent with the patient, and a follow-up appointment is scheduled.
Ready to discuss possible cosmetic treatments for your body?
Men in and around the area of Dallas, TX who are interested in obtaining a more defined chest area are welcome to book a consultation with Dr. Matthew J. Trovato. His practice, which can be reached at (214) 827-2873, serves men and women interested in cosmetic surgeries to achieve results!