Learn about the benefits of pectoral implants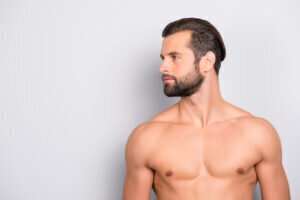 Men who are unhappy with the shape and definition of their chest area may want to ask Dr. Matthew J. Trovato about the benefits of using pectoral implants. Pectoral implants are implants that are used in shaping, enlarging, and firming the pectoral muscles. Even with daily exercise and strength training, some men find that they are still unable to achieve the definition they desire in the chest. With pectoral implants, men can attain their desired results.
Advantages of pectoral implants
There are many benefits to having pectoral implants placed. These implants can:
Improve a patient's self-confidence and self-esteem
Ensure noticeable shape and contour to the chest
Enhance one's physical appearance
Enhance the muscles of the upper body
Create symmetry and definition
Assist in achieving a natural final result
What can I expect from my pectoral implant procedure?
Dr. Matthew J. Trovato and his team start with a patient evaluation. During this initial consultation appointment, men can take the time to speak to the doctor about their desires. Patients should have realistic expectations as to what can be achieved and can look through our before and after photos of past patients. If the patient is a proper candidate for pectoral implants, they will then schedule their surgical appointment. The entire procedure takes less than two hours and is performed with general anesthesia. The doctor makes incisions within the creases of the armpit to eliminate noticeable scarring, and inserts the pectoral implants through this area. The area is sutured with dissolvable stitches. Patients are given aftercare instructions to follow to reduce their risk of infection and other complications, and are encouraged to take time off of certain activities until they are properly healed. Patients will also attend a follow-up appointment with our doctor to evaluate the final results and take progress photographs.
Discuss the advantages of pectoral implants with our team
Dr. Matthew J. Trovato and his team provide solutions for patients in the Dallas, TX area. If you are considering implants, we welcome you to book a consultation appointment with our team by calling (214) 827-2873. We are dedicated to helping men and women look and feel their best with cosmetic surgery solutions.