Using pectoral implants to define the chest area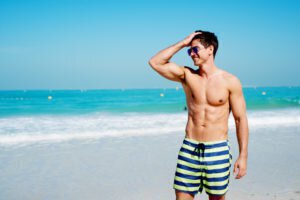 Men struggling with the appearance of their chest have a variety of cosmetic procedures that can be done. Some men consider liposuction to remove excess breast tissue or fat along the stomach or planks. Another option for patients to consider is that of pectoral implant. Pectoral implants, which are used during a procedure called pectoral augmentation, are implants that are inserted under the upper chest muscles to create definition where it is needed. This procedure is often considered by patients who have been working out and eating right but still don't have the muscle definition they desire.
How is a pectoral implant placed?
Dr. Matthew Trovato understands the importance of having cosmetic work completed in a way that reduces the appearance of having plastic surgery. Pectoral implants can be placed strategically underneath the muscles of the chest through an incision in the underarm area. The implant is placed and positioned according to the patient's body structure and muscle tone. Drains are pleased to aid in the healing process, and patients will wear a compression wrap for up to a week following their surgery. The recovery period takes a few weeks before patients can return to their normal activities, and patients should ask their doctor about any time off needed from work or school.
What can I expect after my pectoral implants are placed?
Recovery takes some time, and patients will need to follow specific aftercare instructions to ensure they don't experience any problems such as infection. Patients can expect to have some bruising and swelling in the surgical area and are encouraged to take anti-inflammatory medications to control inflammation and discomfort. Most patients can return to work in a week, but should avoid strenuous activities such as heavy lifting or exercise for up to six weeks post-op.
Discuss the advantages of pectoral implants
If you are a male in the area of Dallas, TX who is unhappy with the definition of the chest area, especially when you've been working out and eating right, it may be time to ask a professional about the benefits of pectoral implants. Contact Dr. Matthew J. Trovato at (214) 827-2873 and schedule an appointment to learn more!