Physical Sunscreen vs. Chemical Sunscreen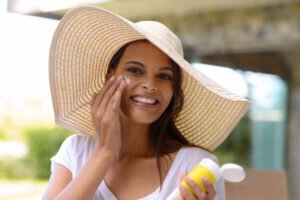 So many people think that sleeping in makeup is the worst thing they can do for their skin. And, while we definitely would not recommend doing that, it's probably not the most damaging thing. In fact, one of the biggest skincare faux pas is NOT doing something. How many of you remember to apply sunscreen every day, even during rainy days or cold winter months? Chances are you forget more often than not, which really puts your skin at risk for UV damage.
If you're interested in preserving the effects of your treatments even better, then sunscreen should become a part of your daily routine. Keep reading to learn about chemical sunscreens and how they compare to physical sunscreens.
Chemical Sunscreens
In general, sunscreens with chemical filters can feel lighter on the skin than physical sunscreens, due to formulation options. Many people might incorporate sunscreen if it feels better to apply so, if texture is a big issue for you, chemical sunscreens might be first to investigate for you.
Some chemical filters have come under fire in the last few years for safety reasons, so be sure to thoroughly research ingredients if you're worried about hormone-disrupting possibilities. Also, some chemical sunscreens affect wildlife. Hawaii recently banned the sale of specific sunscreen ingredients because they damage coral reefs, so if you're planning a trip there make sure to bring a sunscreen that is appropriate.
Physical Sunscreens
These have been around for a long time and consist of two physical filters: zinc oxide and titanium oxide. Physical sunscreens are the best choice for people who have sunscreen allergies (yes, that's a real thing), or who are worried about hormone-disrupting ingredients. Because these bounce UV rays off of the skin, they don't carry some of the same concerns as chemical sunscreens (which can react with the sun and cause irritation for some people).
Physical sunscreens are probably a better fit for people who aren't super picky about textures, since they can tend to be on the heavier side. They also can leave a white cast behind, which might not be a problem for you if you are planning on wearing foundation over them.
If you're looking to reverse signs of sun damage, please give us a call at (214) 827-2873 to schedule a consultation at our Dallas office or (973) 509-2000 and we can schedule a consultation for you in our New York office.